2508-24th Avenue N E, Calgary, AB T1Y 6R8
2013 MAZDASPEED3 Review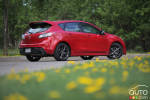 May 30, 2013
2013 MAZDASPEED3 Review
This one's addictive
The MAZDASPEED3 carries its name quite well, and for a number of reasons: Every MAZDASPEED car I've ever encountered -- from the first SPEED Protegé to this latest SPEED3 -- has all but turned me into an addict. Get it? Speed? Addiction? Drugs?
Speed is also exactly that. MAZDASPEED Mazda cars have always been about taking a regular car to the next level performance and handling. A SPEED of the Mazda type is about progression at a rapid rate of velocity.
The
2013 MAZDASPEED3
is unapologetic about being what it is: It's brash, loud and wickedly fast, not especially comfortable, but satisfyingly utilitarian enough to pass off as a multipurpose mode of transportation.
What is a MAZDASPEED3?
A 2013 MAZDASPEED3 is one of the few remaining sport compact cars that were once all the rage. These cars were once my religion. The SPEED3 is the top trim of Mazda's hugely popular MAZDA3 compact car.
The MAZDASPEED3 is directly aimed at the tuner crowd who find that with a few simple modifications (such as an exhaust system upgrade and an ECU flash) much power and fun can be had with this superb little car.
Technicalities
The 2013 MAZDASPEED3 is a simple car. The main ingredient to this SPEED is a turbocharged 2.3L 4-cylinder engine. It pumps out a fashionable 263 hp and 280 lb-ft of torque thanks to a Warner-Hitachi K-04 turbo and its 15 psi of boost. To it all is bolted a 6-speed manual gearbox that contains a delightful limited slip differential.
The 2013 MAZDA3's pricing starts at $15,995. The SPEED3 tips the price scale at $29,995. With the as-tested Technology package, the final tally is $32,635.
Driving the MAZDASPEED3
To start a cold 2013 MAZDASPEED3 is to immediately get a sense of what this car can and will do for the driver. At once strong and thick, the idle settles and first gear is selected, but only with firm gestures. The clutch pedal's weight and friction point are sharp, but once mastered the fun begins.
Despite the presence of a torque-sensing conical limited-slip differential and equal length half-shafts, the SPEED3 will pull to one side upon side-stepping the "man" pedal. Being prepared to shift quickly is the best way to snap the 0-100 km sprint in roughly 6.5 seconds. The MZR 2.3L's power band is fairly narrow and is best between 2,800 rpm and near 5,500.
The 2013 MAZDASPEED3's ride is a direct result of the car's vocation. That is to say that the SPEED3 is committed to handling apexes on a track, controlling body roll, and keeping all four wheels on the tarmac at all times. To say that the car is uncomfortable on an uneven urban road is pointless; it is the compromise made when selecting a car that is this hunkered down and ready for battle with a track.
To match and defeat the SPEED3's pace, Mazda attached fittingly larger disc brakes and calipers that work brilliantly in both city and track settings, having done track time with a few MAZDASPEED3s over the years.
The car's electro-hydraulic power assisted steering (EHPAS) is well judged, both in weight and precision. Feedback trickles in sufficiently in order to get a good picture of what the front wheels are up to.
As for fuel consumption, I averaged a respectable 11L/100 km over a week.
Inside and Out of the MAZDASPEED3
There isn't much to write about where the 2013 MAZDASPEED3's cabin is concerned. There are few differences between it and a regular 3. The most notable are the leather- and cloth-covered red and black MAZDASPEED sport seats. They are not as special as they sound, but still hold occupants well enough in place.
Aluminum-alloy pedals and footrest, and digital boost gauge round out the upgrades. The remainder is functional and ergonomic.
I have no love for the overburdened steering wheel. The grip is good, but the countless controls are not only in poor taste aesthetically but I found that they interfere with rapid wheel-hand movements.
As for the 2013 MAZDASPEED3's outer shell, it gains notable items that make a world of difference. As nothing more than an "appreciator" of the 3's overall shape and grin, the addition of black 18" wheels, a large rear spoiler, and hood scoop save it.
Comparing the MAZDASPEED3
The 2013 Mazdaspeed3 is a car I attempt to drive every year. I find solace in the existence of this car; its near brutal and unforgiving nature is a sign that not all is lost in the modern car world.
Competition lies in the
Volkswagen GTI/Golf R
,
Honda Civic Si
and
Subaru Impreza WRX
. All of these cars are "softer" than the SPEED, but I'm thankful for the sheer fact that they all exist.