2508-24th Avenue N E, Calgary, AB T1Y 6R8
2014 Mazda MX-5 Preview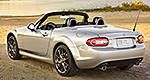 April 4, 2014
2014 Mazda MX-5 Preview
Pros:
The old and venerable Mazda MX-5 still has it. A fun and lovely roadster, it delivers reliable performance and can put a smile on a driver's face any day, all day.
Cons:
The MX-5 isn't without flaws and shortcomings, obviously. For such a small car, it proves relatively thirsty. What's more, the audio system is decent at best, storage within the cockpit is limited, and visibility becomes a concern when you drive with the top up.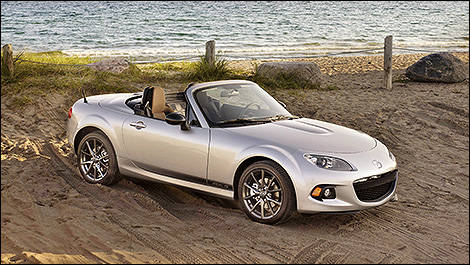 Photo: Mazda
2014 Mazda MX-5 Price:
There are three trim levels to choose from once again including the base GX at $29,250, the mid-level GS at $36,045, and the fully equipped GT at $40,250. The automatic transmission commands an extra $1,200.
2014 Mazda MX-5 Fuel Economy:
Depending on the transmission you select, the Mazda MX-5 will burn as little as 7.1L/100km (highway, manual) and as much as 10.1L/100km (city, automatic).
Improvements and Changes:
No significant changes for 2014.
2014 Mazda MX-5 Powertrain:
Under the hood is a 2.0L 4-cylinder engine that produces up to 167 horsepower with the 5- or 6-speed manual transmission, but just 158 horsepower with the optional 6-speed automatic transmission. The latter features a manual mode and is available with paddle shifters. There's a limited-slip differential except on the base model.
Cargo capacity:
Of course, 150 litres of cargo room is by no means generous, but let's face it: The MX-5 is a sports car that happens to have a retractable top, and not a getaway convertible.
Safety:
The 2014 Mazda MX-5 comes standard with four airbags, 4-wheel disc brakes, ABS, brake assist, electronic brake force distribution, stability control, and traction control.
Comparing the 2014 Mazda MX-5:
Looking for a fun little convertible? Consider the MINI Cooper Cabriolet and Volkswagen Eos before you go out and buy a Mazda MX-5.
Reference : L'Annuel de l'automobile 2014