2508-24th Avenue N E, Calgary, AB T1Y 6R8
2015 Mazda CX-5 Long-term Test: Driving Impressions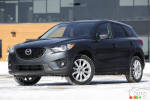 September 11, 2014
2015 Mazda CX-5 Long-term Test: Driving Impressions
Cars are meant to be driven: That's the thing they do the most. Forget the radio, the seat warmers, the cargo space, or even the windshield wipers; sure those all help in the act, but it's the drive that is the most important bit. And Mazda's nailed it.
As our long-term test of the 2015 Mazda CX-5 comes to a close after nearly 5 months of driving, hauling, and enjoying the mighty little CUV through both humid summer days and frigid leftover winter weeks, we're all a little sad to see it go.
You see, from the very beginning, we've had a soft spot for the CX-5, and with good reason. This little powerhouse of a crossover doesn't just drive well, it does everything well.
Equipped with the updated-for-2014 2.5L SKYACTIV-G powerplant, our long-term tester garnered smiles and nods of approval from all who got behind the wheel. From comments about agility to a good amount of pull when asked to pass on the highway, the Mazda CX-5 seemed unable to disappoint. With a lightweight feel, the CX-5 drives more like a car than a crossover, and that's part of its appeal.
Those lucky enough to spend lengthy time with our long-term Mazda CX-5 tester were reluctant to return the keys as they touted the vehicle with comfort, practicality and fun behind the wheel. This is a crossover we'd all be proud and happy to own at the end of the day.